Monday, March 26th, 2012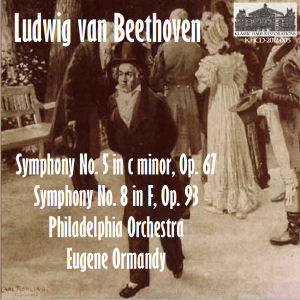 KHCD-2012-005 (STEREO) – Beethoven: Symphony No. 5 in c minor, Op. 67; Symphony No. 8 in F, Op. 93 – Philadelphia Orchestra/Eugene Ormandy – Ormandy's recordings were mostly ignored during the rush to reissue recordings onto CD during the late 80s/early 90s. Two Columbia/Sony CD sets were briefly available, but soon pulled from the catalogue. This LP transfer offers a more authentic "vinyl" experience (minus the clicks!), much warmer in soundstage  than the clinical 90s digital remasterings. The Philadelphia Orchestra is unmatched in sonority these "big band" Beethoven performances, worthy mates to other recordings utilizing large orchestras.
Click here for an MP3 sample of this classic Philadelphia Orchestra recording, available on Klassic Haus Restorations.
Cheers – Curt Timmons